We offer compounded medications to meet the needs of your entire family!

Ask us about bio-identical hormone replacement therapy for both men and women.

We can compound medications in flavors your kids will love!

We compound specialized medications to meet the unique needs of each animal.
Welcome to HealingSprings Pharmacy!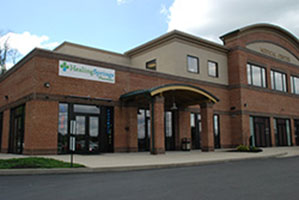 We are an independent pharmacy in Ross, Ohio conveniently located within a professional medical center and servicing patients in our local tri-state area since 2009. Pharmacists Kara Rolfes, Andrea Haney and staff are knowledgeable, experienced and always welcome your questions. We are equipped to fill your prescriptions efficiently while you wait in the pharmacy or in our drive-thru. Compounding prescriptions for hormone replacement therapy, veterinary, pediatric, and geriatric needs are regularly performed at HealingSprings. Hormone consultations are available by appointment with Kara, who has extensive continuing education and training in this field.
We offer a wide variety of medical braces, anti-embolism stockings, incontinence and nebulizer supplies that are available for purchase in the store. An excellent selection of pharmaceutical grade vitamins can be browsed through during a visit at HealingSprings Pharmacy as well. Our pharmacists are now offering immunizations including the seasonal flu, pneumonia, and shingles vaccinations all available without a prescription. We also offer Hepatitis A & B, Meningococcal (MMR), Tetanus/Diptheria (Td), and Tetanus/Diphtheria/Pertussis (Tdap) by request.
We take pride in our initiative to be a wellness pharmacy, focused on obtaining optimal health for each patient. By directing attention to educating patients fully about drug-nutrient depletions, interactions between herbs and drugs, and how foods can impact patients' responses to drug therapies; HealingSprings Pharmacy provides an outstanding and unique learning environment for patients. Information is power, and we believe our pharmacists can help propel patients' health forward by empowering patients to make the necessary lifestyle choices and changes for them to feel their best.
Quality of life for all patients at HealingSprings Pharmacy is always a top goal. We treat patients the way we would like to be treated. We treasure the relationships we have created with patients and strive to meet their expectations. The triad relationship of physician, pharmacist, and patient is at the core of what we believe, and given the proper care and treatment, patients can achieve better health and vitality.
We are open six days a week and look forward to seeing you soon!